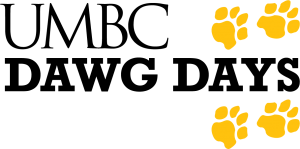 Connect and engage with UMBC before your first year begins! Dawg Days are additional summer programs that allow you to engage with UMBC and your classmates beyond Orientation day. Each Dawg Days program engages students in a variety of dynamic activities, inside and outside the classroom.
We have SIX Dawg Days programs that students can choose from:
Spend 2-weeks in Bristol and London, United Kingdom and earn 4-credits along the way. Only 30 incoming UMBC students will get to participate in this once in a lifetime opportunity! To view the itinerary and submit an application, click here.
Participate in the Genesee Valley Outdoor Learning Center challenge course, which is one of the largest of its kind in the country, comprised of over 60 low and high ropes course elements. This 1-day program is a great opportunity to connect with other incoming UMBC students and make new friends. To learn more, click here.
Combine your Orientation program with this unique 2-day, 1-night on-campus overnight experience! Whether you will be living on-campus or commuting in the Fall, UMBC is going to become your new Basecamp! Dawg Days: Basecamp will allow you to get a real sense of what life is like as a Retriever. To learn more, click here.
Dawg Days: Expedition is a 2-day, 1-night experience that allows a small group of first-year students to enjoy the great outdoors. Students will participate in team building and high ropes activities, pick an outdoor adventure activity, and pitch a tent for the night! To learn more, click here.
Dawg Days: Jumpstart is a six-week summer bridge program that offers students the chance to take a math, writing, and/or general education course during the summer along with an interactive transition seminar in the fall. Participants get an academic jumpstart at UMBC while also making new friends and learning about the campus. To learn more, click here.
This 1-day program is designed for incoming Transfer students to get to know each other in a fun and relaxed setting. To view the full itinerary, click here.
How Do I Register for a Dawg Days program?!
Students must register through the online Orientation reservation system*. Starting in March, students can log into the Orientation reservation system and select "Dawg Days" on the left-hand side! Please note: Payment is required to confirm your space in a Dawg Days program. If a student becomes unable to attend Dawg Days PRIOR to the program, a refund can be issued. Refund requests must be submitted via email to orientation@umbc.edu. Refunds take 3-4 weeks to process and there is a $10 processing fee that will be deducted from the total fee.
*In order to participate in Dawg Days: Abroad or Dawg Days: Jumpstart there is a separate application process that must be completed; please click on the corresponding program for more information.
Is Financial Assistance Available?
Yes! Financial assistance may be available for each of these programs. Please email Claire Stone at eclaire@umbc.edu for additional information.
More Questions?
Visit our FAQ page!