You will register for your UMBC classes during your virtual orientation advising appointment. In order to better prepare yourself for your appointment with an orientation advisor, we recommend you review your academic information and take a look at the schedule of classes. Below are many helpful resources and links. Just click the links and images to access them!
In order to be ready for your advising appointment please download the WebEx Meetings App here! Please note; do not to use a mobile device for these appointments as some functionality is limited to desktop only.
Advising and Student Support:
Enrollment 101 Presentation – Preparing to Enroll: Tips for New Students
New Student Orientation and Advising Guide: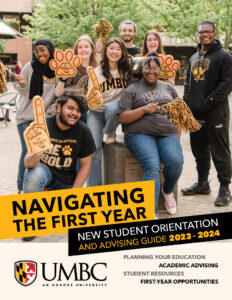 Access your New Student Advising Guide HERE! You will receive a hard copy on your campus orientation day, but feel free to explore its contents before joining us!
Undergraduate Catalog and Schedule of Classes:
Take a look at the Undergraduate Catalog and Schedule of Classes for course offerings. Begin identifying courses of interest. You will have an opportunity to discuss your options further with your Advisor at Orientation. The full-text Undergraduate Catalog can be accessed at catalog.umbc.edu. The Schedule of Classes is available through my.umbc.edu/topics/classes-and-grades.